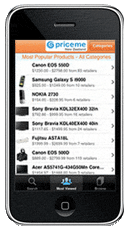 We have just released an updated and improved version of PriceMe's iPhone application has now been updated.
The new version 1.2 has been redesign, so that it's easier and faster to click through to a merchant. This change should make the app. better. We also enhanced various aspects of user usability, including the chooser wheel for categories.
We're planning to continually improve the application. The next version will contain maps (useful to locate offline merchants and online stores with pick-up). User and expert reviews might also be included.
Please let us know what you think about the iPhone application and how we can make PriceMe better.